Easthampton MPG Remediation
Significant Facts
Former manufactured gas plant (MPG) Site
Excavation and disposal of 22,000 tons of coal tar contaminated soil/sediment
River diversion/cofferdam installation
Contaminated water treatment
Sediment removal
Wetland restoration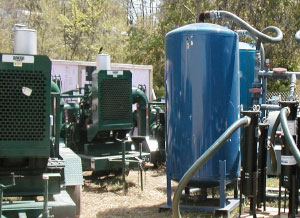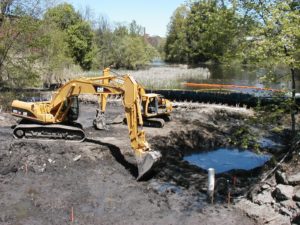 Project Summary
True Blue was retained to provide remedial construction services at a former manufacture gas plant (MGP) site in Easthampton, MA. True Blue worked with the client and their consultants to obtain all local permits for the remedial activities and participate in the public communication process vital to the completion of the project.
Prior to commencement of remediation activities, True Blue prepared project submittals including a Site Specific Health and Safety Plan and a perimeter air monitoring system plan.
The remediation entailed removal of coal tar contaminated sediments from Lower Mill (Williston) Pond. Diversion of the canal feeding the pond was accomplished using a portable dam structure. True Blue installed portable cofferdams upstream and downstream of the impacted areas and canal flows of up to 30,000 gallons per minute were diverted around the sediment removal area using bypass pumps. Approximately 1500 tons of contaminated sediments were excavated from the pond.
Impacted surface water and groundwater encountered during contaminated soil and sediment removal activities was pumped through an activated-carbon treatment system prior to discharge to the local POTW. Working closely with the Easthampton Department of Public Works, True Blue successfully treated and discharged more than 1,000,000 gallons of water.
Final site restoration activities included restoration of the Isolated Pond wetlands and the Lower Mill Pond wetlands, replacement of Lower Mill Pond sediments and re-planting of upland vegetation.