Franklin MPG Remediation
Significant Facts
Former manufactured gas plant (MPG) site
Removal of 40,000 cubic foot relief holder
Excavation and disposal of 1,480 tons of coal tar contaminated soil
Installation of 3,200 square feet of box steel sheeting
Application Orc® during backfill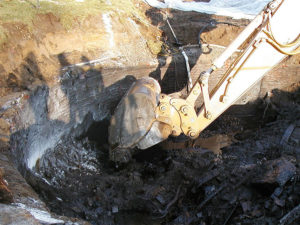 Project Summary
True Blue was contracted to provide remediation services at a former manufactured gas plant (MGP) site in Franklin, NH. The work entailed removal of coal tar wastes, demolition of a 40,000 cubic foot below-grade relief holder, and site restoration. The MGP was adjacent to an active fire station, public works facility, historic firefighter's museum and several residential dwellings. Prior to remediation, True Blue conducted site work consisting of installation of perimeter fencing, a perimeter air monitoring system, and a de-watering system. Throughout the project, measures were taken to protect the historic museum from construction activities.
The first phase of remediation project involved de-watering of the relief holder followed by the removal of 450 tons of coal tar wastes (including wood and steel debris) from the bottom of the holder. These wastes were stabilized with lime and excavation spoils and dynamically loaded and transported offsite for disposal/recycling at a thermal desorption facility and a secure landfill.
The second phase of remediation involved the installation of 3200 square feet of steel sheet piling around the relief holder to a depth of 20 feet below grade. The former relief holder was then demolished and sent offsite to a secure landfill. Soil excavation below the relief
holder bottom resumed (into the groundwater table) and residual tarry material surrounding the
holder was excavated to 16 feet. A total of 1480 tons of coal tar contaminated materials were removed.
The final phase of remediation involved the placement of 650 pounds of Oxygen Release Compound (ORC®) into the stone backfill. The ORC® provides a relatively long-term oxygen source to enhance natural degradation of residual contaminants. The steel sheeting was then removed and site restoration performed. Site restoration included re-paving of the site, replacement of granite curbing, planting of shrubs, placement of topsoil and planting grass seed.
This site was the first MGP site in New Hampshire to undergo remediation using the "presumptive remedy approach" as outlined in the New Hampshire Risk Characterization and Management Policy (RCMP) for contaminated sites.