Keene MGP Remediation
Significant Facts
Former manufacture gas plant (MGP) site
20,000 tons of coal tar contaminated soil/sediment disposal
10,000 tons of debris disposal
Temporary by-pass system/installation of 300 linear feet of 48″ culvert with new outfall
Demolition of 4 former gas holders
Installation of flowable fill wall
Vibration/perimeter air monitoring
ORC application/site restoration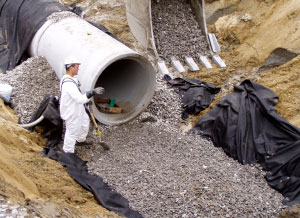 Project Summary
True Blue was contracted to provide land based remedial services at a former manufactured gas plant (MGP) site in Keene, New Hampshire. Site constraints included working near residences, a shopping center, restaurants, a liquid gas propane mixing building and an active electrical switching building. Prior to initiation of site activities, True Blue installed a 5-station perimeter air monitoring system.
The first phase of the project consisted of the installation of a flowable fill wall around two sides of the site to structurally support a gas propane mixing building and a parking lot. A controlled strength low-density concrete mixture was designed and tested and a total of 65 flowable fill cells (12' D x 12' L x 6' W) were installed using modified trench boxes. Once the flowable fill cells were complete, two former holders and impacted soil (10,000 tons) were excavated, holder tars removed (6,000 gallons), demolished (4,000 tons) and the soil/debris were sent off-site for disposal. Simultaneously, a tar separator tank which was part of the gas propane mixing building foundation, was saw cut from the foundation pumped free of tar residuals, demolished and the debris was sent off-site.
In the next phase of the project, the site was completely fenced and 8-mil polyethylene liner was fitted to the fence to assist in odor suppression. The initial focus was on the replacement of a 42 inch galvanized culvert, used by the City of Keene for flood control, which was impacted with coal tar. The completion of this phase was coordinated with seasonal flood stage issues as well as a major citywide "Pumpkin Festival." A 24-inch HDPE pipe bypass system, powered by diesel and emergency electric generators was installed as part of a three-phase bypass plan to temporarily handle storm water flows. The 42-inch culvert was removed and approximately 10,000 tons of coal tar impacted bedding material was excavated and disposed/recycled at an off-site thermal desorption facility. In addition to coal tar, 500 tons of cadmium impacted bedding material was also managed and disposed of off-site at a landfill facility. The process of removing sections of the old culvert, impacted bedding material and installing the new 48-inch concrete culvert was alternated until the entire 280 ft section was completed. The process was completed with the installation of a new concrete outfall and riprap energy dissipater.
The final holder demolition required vibration monitoring within the nearby active electrical switchgear building due to the critical nature of the switchgears to the City of Keene's electrical delivery system. The holder contents and contaminated soil (4,000 tons) was excavated to expose the holder slab and walls. The holder slab was then cut approximately 6 feet from the switching building and then cut into sections for removal and demolition on another portion of the site and eventual off-site disposal.
All wastewater (approximately 300,000 gallons) generated throughout the project as treated via an on-site treatment system and discharged to the local POTW. Site restoration included drainage, placement and compaction of 20,000 ton of backfill/gravel, installation of 4,000 lbs. of ORC, a 6" water line, asphalt pavement and wetland/outfall restoration.