Northampton MGP Remediation
Significant Facts
Excavation, transportation, and disposal of 40,000 tons of coal tar
Excavation, transportation, and disposal of 7,500 tonsof hazardous benzene contaminated material
Removal of two 80,000 square foot holders
Cleaning of an interior gas holder
Placement of 40,000 tons of clean backfill
Renovation of the interior of two existing buildings
Fast track project which integrated the needs of the city & commercial enterprises and local residents.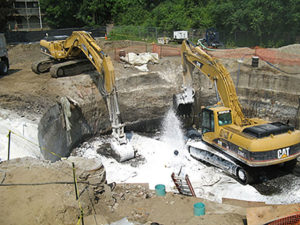 Project Summary
True Blue Environmental Services (TBES) was hired by Bay State Gas Company to provide multiple remediation services at their former Northampton Gas Works (Roundhouse), a manufactured gas plant in Northampton, Massachusetts.  The project was located in the downtown section of Northampton, in a heavily commercial and residential area.
The project goals consisted of the removal of NAPL source areas including three former gas holders, one of which was inside the basement of the existing three-story roundhouse building.
TBES used a combination of soft and hand excavation techniques to remove the 2,000 tons of coal tar underneath the building.  As part of this effort, TBES dismantled and reassembled a micro-excavator inside the building to facilitate the removal of coal tar to depths of 10 feet. All work was performed in Level C personal protective equipment with continuous air monitoring and full OSHA protocol under the direct supervision of a CIH.
During the interior operations, TBES erected structural enhancements to support the three-story building, performed the necessary excavation activities, then installed new footings and supports, backfilled with structural material, and finished off the interior remodeling with new flooring and walls and miscellaneous finishes.
In addition to TBES' interior remediation, two 80,000 ft2 exterior gas holders were decontaminated, including the removal of approximately 100,000 gallons of free phase tar.  These holders were in close proximity to the roundhouse and were removed while maintaining the structural integrity of the building.  TBES continuously monitored the structural integrity during the excavation and backfilling process.
Underground utilities, including gas, water, storm drainage, sewer, and electrical were relocated without any interruption of service to the neighboring community.
Because the project was centered in a commercial and residential mixed use neighborhood, TBES implemented numerous odor suppression methods, including surfactants and foam.  Further, TBES maintained a noise reduction program to minimize the disturbance to the neighborhood.