Environmental Services
True Blue Environmental Services routinely provides a variety of environmental services to public utilities and commercial and industrial clients. It is the combination of experience, safety, reliability, and pride in our work that makes True Blue your full service environmental solutions provider. Some of the environmental services we provide include:
Asbestos abatement
Groundwater remediation & treatment
Brownfields development
Hazardous materials abatement
Capping
Lab packs & overpacks
Chemical line & System Decontamination
Lead paint remediation
Environmental & personal exposure
Material stabilization monitoring
Odor suppression
Frac tank & roll-off storage
Perimeter air monitoring
Radon gas ventilation systems
Source removal, recovery & replacement
Regulatory compliance & permits
Utility manhole decontamination
Soil remediation
Waterloo barriers
Mobile treatment systems for soil and groundwater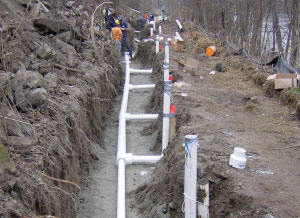 Former Gas Works Site
True Blue completed installation of two dense non-aqueous phase liquid (DNAPL) coal tar recovery systems at a former gas works site in Holyoke, MA.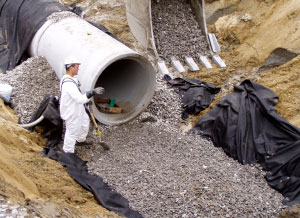 MGP Remediation Project
True Blue was contracted to provide land based remedial services at a former manufactured gas plant (MGP) site in Keene, New Hampshire.