Wetland and Waterway Restoration
True Blue Environmental Services routinely provides waterway restoration services to a variety of public utilities and commercial and industrial clients. These services include sheet piling installation, river diversion/dewatering, source removal, channel deepening, reshaping and restoration. It is the combination of experience, expertise, safety, and reliability that makes True Blue the smart choice for complex waterway restoration projects.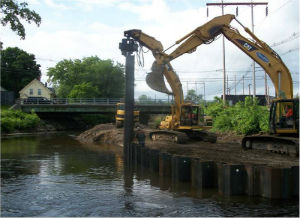 River Remediation and Restoration
True Blue Environmental (TBE) was contracted to provide river remediation and restoration services down stream of a former Manufactured Gas Plant (MGP) site.  Coal tar-impacted sediments were removed and replaced with clean fill.  Installation of wetland vegetation and other plantings completed the project.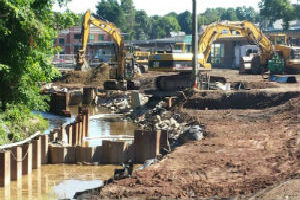 Stream Restoration
True Blue completed excavation of approximately 26,136 tons of soil impacted with coal tar from a utility client site, which included restoration of the stream banks, stream flow diversion, installation of head walls and underground storm water systems.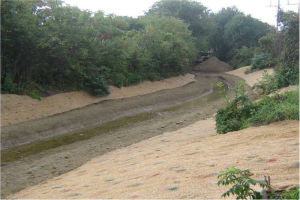 Riverbank Restoration
True Blue Environmental has conducted many river channel and riverbank restoration projects including channel deepening and reshaping and restoration/planting of wetland vegetation.