Stabilization of Hazardous Soils – Retail Client
Significant Facts
5,550 tons of hazardous lead soil
Stabilization utilizing 550 tons of cement dust
Dust control measures throughout project
Disposal of 5,550 tons of non-hazardous soil
Adjacent to residential housing and shopping center
Coordination with planned construction activities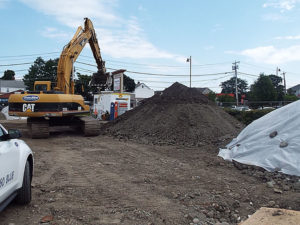 Project Summary
True Blue Environmental Services (TBES) was hired to stabilize 5,550 tons of lead hazardous soil at a former manufacturing site which was being converted into a shopping center. The 5,550 tons of soil was initially stockpiled on site and tarped to suppress fugitive dust emissions until stabilization could begin.
TBES utilized 550 tons of cement dust for the hazardous lead stabilization process. Cement dust was delivered to the site and TBES created a mixing area with a continuous misting system to eliminate fugitive dust emissions which were being monitored at the property boundary. The cement dust was mixed with a front end loader and excavator in 50-ton increments to achieve a successful blend (10:1 ratio) prior to TCLP testing.
Stabilized stockpiles of 200 tons were generated for TCLP testing and tarped. Once TCLP results were acceptable, the material was loaded into triaxles for delivery to an offsite disposal facility.
The site restoration consisted of general grading and preparation for paving. The entire project required constant coordination with the building contractor to meet the schedule of the customer.