Underground Storage Tank Removal and Replacement
Significant Facts
Closure of 20,000-gallon USTs
Obtained required National Security clearance
Removal of 3,600 gallons of product utilizing True Blue's turbo-vacuum tanker trucks
Confined-space entry for cleaning of tanks
Placement of 260 cubic yards of flowable fill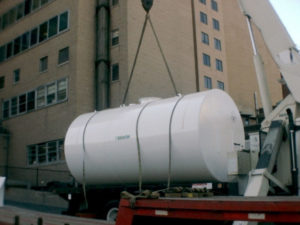 Project Summary
True Blue was contracted to perform in-place closure of underground storage tanks (USTs) at a nuclear power plant in Waterford, Connecticut.  Our client formerly operated two 20,000-gallon USTs located underneath a multi-story steel support structure covering three 1.1 Mw power lines exiting the generator building. Because of the low clearance of the structure, the tanks could not be removed and had to be closed in place.
In preparation for the project, True Blue's UST team obtained the required National Security clearance, which included an extensive background check, criminal record review, credit review, and fingerprinting, then participated in two days of site specific training.  The client's engineers and safety specialists met with True Blue personnel to review the closure plan, which included confined space entry, pressure washing the tanks, and materials handling.
Approximately 3,600-gallons of product were pumped out of the tanks with True Blue's turbo-vacuum equipped tanker truck.  Subsequently, two technicians entered the tank while a rescue team, attendants, and safety supervisor continuously monitored the entrants' activities.  Subsequent activities included in-situ sampling of underlying soil through the tank walls and floor prior to backfilling the tanks with a flowable fill.
True Blue coordinated the security clearance and scheduling of 26 cement trucks to deliver 260 cubic yards of flowable fill in the final day of site activities.