Waterbury MGP Remediation
Significant Facts
Excavation, transportation, and disposal of 100,000 tons of coal tar contaminated soil
Removal of 40,000-gallons of liquid tar
Removal of 5,000 tons of concrete
Placement of 80,000 tons of clean backfill
Treatment of 400,000-gallons of contaminated water to local potw
Demolition of numerous site structures – purifier boxes, tar separator tanks, buildings, and holder pads
Fast track project which integrated the needs and responsibilities of several site contractors.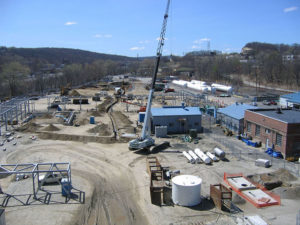 Project Summary
True Blue Environmental Services (TBES) was hired to provide remediation services at a former manufactured gas plant site in Waterbury, CT, which was chosen as the location for the construction of a 1.2 BCF liquefied natural gas (LNG) holder.  TBES was responsible for providing clean work areas for the entire site and duration of the project and for coordinating all planned site activities from multiple site contractors.  Multiple crews were mobilized and utilized during the entire project.
Initially, all sub-slab concrete structures and former holder pads were demolished.  The concrete debris (5,000 tons) was recycled and utilized on site as fill material.  Additional structures, including tar separator tanks, purifier boxes, and various cast iron piping were removed over the course of the project.  Associated with these structures was the removal of 40,000-gallons of liquid tar using TBES's vac-trucks.
TBES' mobile groundwater treatment system consisting of 2-20,000 gallon frac tanks, sediment filters, and 2,000 lb carbon canisters were delivered to the site to store and treat 400,000 gallons of contaminated groundwater that was encountered during deeper excavations.  These excavations were needed for the installation of numerous gas, water, electric, phone and sewer utilities, and storm drainage with installations as deep as 20 feet below grade.
Approximately 100,000 tons of coal tar contaminated soil was excavated and disposed of at a thermal desorption facility.  The excavated areas were backfilled in lifts to engineered specifications to allow for construction of the LNG holder and support structures.  Approximately 80,000 tons of  clean backfill was placed at the site.
In addition to the construction aspects of the site, TBES was responsible for the implementation of several environmental remediation initiatives that were only available during the site development phase.  These initiatives allowed for the removal of source material in several locations and ultimate compliance with the CTDEEP remediation standard regulations.
Vigorous air sampling and odor and dust control monitoring plans were implemented and maintained during the project.